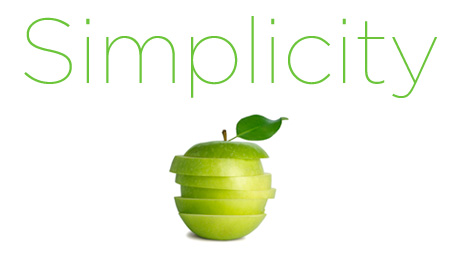 Do you feel stressed and overwhelmed with commitments, work and life?
Do you often get stuck in worrying even when you are not at work or in school?
Do your thoughts run into dark, complicated clouds of negativity and overthinking almost every day?
Do you feel like there is not enough time and energy for the relationships and the most important things in your life?
And do you think that more things may not solve all problems and create happiness but in fact, more and the striving for more feels like a trap?
Being in such a place is not uncommon today. Life is often complicated, hectic and overwhelming.
It is very apparent that that there is a deep need and desire for simplicity today. By simplifying your life you cannot only minimize the problems above but also find more success, happiness and inner peace.
That is why I have created a course called Simplicity. In it I will via written guides, 20+ audio guides and workbooks share how I have simplified the most important parts of my own life while at the same time improved it over the past 6 years. And how you can do the same a lot quicker and get those simple, positive changes to stick for life.
How simplifying has transformed my life
Although I have grown a lot, made many improvements and simplified all major aspects of my life to the point where I just focus on the most important things it didn't always use to be this way.
Back in 2004 my life was complicated:
I found life and the world confusing and overwhelming. My mind was so overwhelmed by my confused thoughts and all the input from the hectic outside world that I mostly just felt paralyzed.
My mind was cluttered with unhelpful habits. It often dipped into negative thought habits like pessimism, overcomplicating and overthinking things and worrying.
My effectiveness in school just plain sucked. I got up a few hours before lunch, miss a few classes, did some unimportant busy work and then procrastinated until I crammed just before a big exam.
My fitness levels had gone down the dumps. I put on probably 35 pounds of fat produced by a steady diet of too much food, too much potato chips and Pepsi and running the 200 meters to the bus stop as my alibi for exercise.
My social skills weren't too good either. I hadn't had a date with a woman in years. I was too shy, timid and lacked the confidence and self-esteem to express myself most of the time with anyone.
My home was disorganized and cluttered with stuff I didn't need.
As I write this it's April of 2011 and things are a lot simpler:
I live a simple life in my calming and uncluttered home with only the most important things.
My focus is simple and sharp. I do more of critical importance between breakfast and lunch than I used to do in a couple of days in 2004.
My thought habits are light and positive. I am not weighed down by worries and overthinking like I use to be. Pessimism and overthinking aren't the default modes, a light mindfulness and flow are. Instead of feeling confused or anxious I feel an inner stillness.
I am doing regular and intense workouts every week. I eat healthy and not too much anymore. I have lost my excess weight, all those pounds. I have a few fundamental health habits that, at the age of 31, keep me in the best shape I have been since I was a kid.
I am no longer shy or socially unconfident as a default mode. My social skills and relationship skills have improved greatly. I find it pretty easy to talk to anyone and feel no inner obstacles for that anymore. A couple of months ago I celebrated my one year anniversary with my awesome girlfriend. It feels like a natural thing to be social and open these days.
I'm not telling you all of this to brag. I certainly have my flaws and areas where I want to simplify and/or grow. I am telling you this because I have actually gone through this process and I know what has worked best for me.
How did I make this huge shift?
That is what I will share in this course. I will share the most essential techniques, strategies and advice I have found over these last few years. Many of these things are things I haven't even mentioned on my blog or in my newsletter.
I will teach you how to make the shifts you want to make in your life.
The shifts that make life simpler, lighter and focused in a way that help you to find time and energy to fully enjoy what is most important in your life. And in the simplest way I can I will share how you can simplify and improve much faster than I did and make those changes stick.
Here's What You Get in the Simplicity Course…
This course is in-depth but at the same time concise. It contains the essential advice to simplify and improve a lot of areas in life that people often overcomplicate and overthink.
Simplicity is available in two editions, the basic one and the complete one. Both editions of the course consists of six modules with 6 written digital guides in PDF format and 5 workbooks that will help you to find clarity and to practically apply the advice to your life and specific situation. The basic edition of the course contains 6 audio guides  that you can listen to while driving, riding the bus or when you are out taking a walk. And the complete edition contains 15 additional audio guides besides those 6 in the basic version.
Module 1: The Six Principles of Simplicity
What you should use your precious attention for in life.
The three keys to making simplicity and improvement into a reality instead of just a dream.
Principles that will always help you to find calmness and focus in the chaotic and complex world of today.
Module 2: Simple Productivity
How to change your habits in the easiest way.
Learn of the three habits that have helped me to triple my productivity and effectiveness in the past few years.
Find out how you can overcome the common stumbling blocks in personal development and motivation and make your success guaranteed.
How to handle email and other routine tasks in the simplest and quickest way you can.
Module 3: Simple Thinking and Mindfulness
How to simplify your thought habits and find calmness and inner peace in everyday life.
The most effective ways to handle common thought complications such as worrying, pessimism, low self-esteem, a victim mentality and overthinking.
Learn how to adopt what I believe is one of the most valuable and versatile habits one can have that will transform not just your thinking but your social life and relationships, your effectiveness and many other vital areas in life.
Module 4: Simple Social Skills and Relationships
Find out how you can give more and deeper of the perhaps most important thing in any relationship. It's a simple thing, but making real improvements here will totally change your social life.
Learn how to make your relationships simpler and lighter and to overcome common stumbling blocks that make any relationship harder and more complicated than it needs to be.
How I overcame shyness and social nervousness and how you can too to live a freer and richer social life.
The essential keys to simpler social skills with anyone and powerful dating tips that I applied and that really changed my life.
Module 5: Simple Health and Fitness
Learn about three of the most important aspects of a happier, simpler and more energetic life.
Identify energy leaks that drain you each and every day and make life so much heavier in subtle and not so subtle ways and learn how to plug them.
The easy way to establish a workout habit for life.
Find out the simple, no-nonsense steps that helped me lose 26 pounds.
Module 6: Simple Living
Find out how you can change your relationship to things, stop making unnecessary purchases and reduce clutter in your life.
The few, essential habits that will keep both your home and your workspace clutter-free every day.
Discover how you can cut down on unnecessary costs, more consciously spend your money and simplify your financial life.
60 Day 100%, No Questions Asked Money Back Guarantee

I am so confident that this course will help you that it comes with a 60 day money back guarantee. So it's a risk-free deal for you.
If you aren't satisfied that the Simplicity course  is helping you improve your life or you don't like the material for some reason then just let me know and I'll refund you in full with no hard feelings and no questions asked.
NOTE: The written guides for each module of the course are in PDF format so you read it on your computer, Kindle, Ipad etc. These are not print books made out of paper. But you can of course print out a copy of a guide by using your own printer.
Here's What You Get When You Order the Simplicity Course – Basic Edition Today…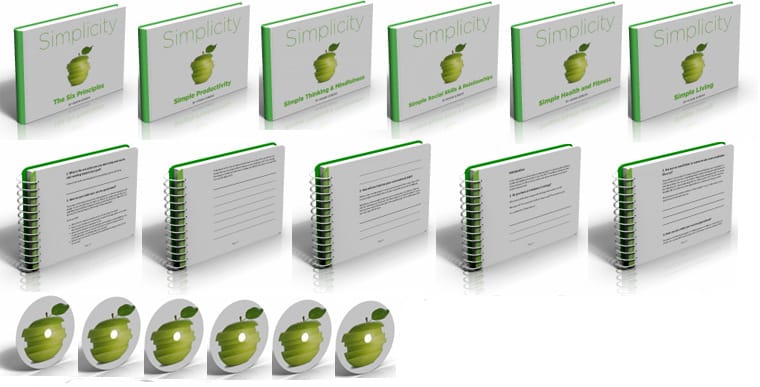 This course is as mentioned above available in two editions, the basic and complete edition.
If you get the basic edition of this course you'll get:
The 6 Written PDF Guides on The Six Principles of Simplicity, Simple Productivity, Simple Thinking and Mindfulness, Simple Social Skills and Relationships, Simple Health and Fitness and Simple Living.
The 5 Workbooks. One of for each of the written guides – except the first one – that will help you to gain more clarity and apply the tips and ideas from the course to your own life and specific situation.
The Six Principles of Simplicity Audio Session. An 10 minute audio version in mp3-format of the first module from the course.
The 3 Habits of Simple Productivity Audio Guide. An 9 minute audio version in mp3-format of the chapter on the 3 basic habits of relaxed productivity from the course.
How to Stop Overthinking and Overcomplictating Audio Guide. An 7 minute audio version in mp3-format of the chapter on how to stop overthinking and overcomplicating life  from the course.
On Value Audio Guide. An 6 minute audio version in mp3-format of the chapter on how to add value to your current and new relationships and through that improve them from the course.
How I Lost 26 Pounds Audio Guide. An 9 minute audio version in mp3-format of the chapter on how I lost 26 pounds of fat during the first couple of months of 2009 from the course.
What Do You Need? Audio Guide. An 7 minute audio version in mp3-format of the chapter on how to reduce the clutter at home and shop and spend your money in a more conscious way from the course.
You get all of this right now for just 37 dollars. Plus, by just using the simple money tips from this course you should be able to save that money elsewhere during this year.
Click the button below to get your copy of the whole Simplicity course for just 37 dollars today.
Here's What Else You'll Get When You Order the Simplicity Course – Complete Edition…
The complete edition of the Simplicity Course contains even more awesome stuff than the basic version. If you get this edition you get it all.
Get the complete edition of the course to get access to everything from the basic edition plus these 15 additional and very helpful audio guides (over 2 extra hours of audio):
Habits and Rituals for Sustainable Change.
The Simple Guide to Overcoming Procrastination.
On Motivation and Making Success Guaranteed.
The Awesome Morning Ritual (and Other Rituals).
On Optimistic Thinking.
Slow Down into the Present Moment
How to Stop Worrying So Much
On Fear, Self-Confidence and Self-Esteem
How to Improve Your Conversational Skills
How to Reduce Social Nervousness and Shyness
On Dating
Simple Health
Simple Fitness
Simple Money Tips
How to Keep Your Home and Workspace Clutter-free
 The complete edition costs just 47 dollars. Click the button below and get access to all of this in the complete edition of the Simplicity Course today.
P.S: Remember, there is no risk at all for you when you buy this course. There is a 60 day, no questions asked money back guarantee. Just send me an email if you for some reason don't like this course and I will refund you in full. So take this opportunity and start creating a simpler and better life today.